"We can only ever be graded by the enjoyment, progression and success of our pupils"
Why Coaching?
At Future Golf, we take great pride in the quality of our golf coaching service. All members of our coaching team are PGA qualified and we offer coaching for every requirement. We cater for all groups of golfers, be it new to the game, established players, elite players or junior golfers.
Individual Lessons:
We constantly strive to bring the best out in your own individual game, golf swings are like snowflakes with no two ever being the same, we feel it's not what we know but more what you know when you leave your lesson, all areas of the game can be covered and times and durations bookable to suit.

Group Lessons:
Our group lessons are a great way to start your golfing journey and improve your golf. The group format helps you to meet other people of a similar level, whilst receiving great tuition at a lower cost.

We work with small groups (maximum 8 per coach) and cover all aspects of the game. Our aim is to get you playing on the golf course with confidence as soon as we can!

Here come the girls

Women's Golf at Future Golf is all about Fresh Air & Friends! You don't have to be a member of the golf club to join in – you don't even need to own a golf club to get started! We offer learning opportunities that create a pathway from beginner to playing the golf course. We have a number of individual and group lessons available with our professional team to help improve your golf!

We are very proud to be a "Golf Girls Rocks" centre and use England Golf initiatives like Women On Par in our coaching programmes.
Lessons will cover:
Golf Fundamentals
Swing Basics
Short Game
Long Game
Course Management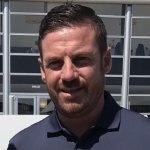 Kevin Caplehorn - Head PGA Professional
My team and I provide all of the professional services day to day within the club, including a well-stocked and maintained Professional shop, first class coaching to all, state of the art fitting service with a GC Quad in our Lloyd Richardson studio, running and operating the practice facilities and running all club competitions and handicaps. In my early career and whilst developing my skills as a PGA professional I spent my formative years coaching throughout the world, on the European, US and World Tours. This exposed me to different practises and cultures for example, pioneering the growth of the game in China and Russia. This demonstrates my desire to constantly improve and stretch myself by taking on new challenges. 26 years as a PGA professional has seen me develop skills as a coach to all players from beginner to elite. Along with being part of the Hampshire County Coaching team for 11 years, I have also been a member of the Swingzone Coaching Team at 5 Open Championships. Running group initiatives with England Golf and the Golf Foundation the growth of the game is of massive importance to me, whether completely new to golf or advanced individual player, I start every day with the understanding that as a Professional I can only ever be graded by the enjoyment, understanding and progression of my pupils. I am a very proud father in golf also, my two sons Tommi and George now aged 21 and 19 respectively, enjoyed playing from an early age, they both played for Hampshire from the age of 11 and played at a national level in tournaments, importantly they both still play and enjoy the game today. Outside of work I am very keen on singing, love to travel and am an avid Tottenham Hotspur fan, which at times can be painful!
---
Sam Hutsby - PGA Trainee Professional
An outstanding amateur career saw Sam compete at highest level, Individual wins came in world events including the 2006 Spanish International Amateur Championship and the European Nations Cup. In team golf Sam represented England in the World Amateur Championship, the European Amateur Team Championships and the prestigious Walker Cup Trophy (GB&I vs USA). In April 2009, Sam was 3rd on the World Amateur Golf Rankings, which at the time made him the highest ranked player in Europe. In Sept
---
Natalie Hurst - Retail Manager
Natalie's background is in retail and has excellent customer service skills, with a really kind helpful nature Natalie is a major part of our team
---